With the secrets of roll ice cream, we are manufacturing and supplying high quality range of Roll ice cream premix. We are providing the various flavours of Roll ice cream premix: Strawberry, Chocolate, Butterscotch, Vanilla etc all over India. We also provide customized premix powder on order.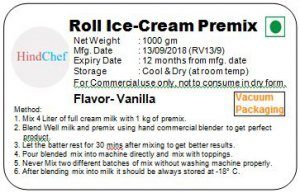 Packaging: 1 kg
shelf life: 12 months
Storage: Cool and dry at room temperature
Offer Price: Rs. 200/kg + GST
Moisture proof vacuum packing
Rich in protein, calcium & Other nutrition
Optimum freshness
How to make Ice Cream Rolls?
Total Serving: 80-85 (approx. 60 ml)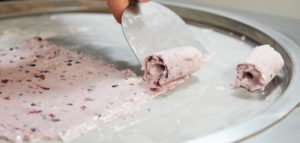 Mix 4 liter of full cream milk with 1 kg of Hindchef premix.
Blend well milk and premix using hand or commercial blender to get perfect product.
Let the batter rest for 30 mins after mixing to get better results.
Pour blended mix on machine pan directly and start to make ice cream spatulas.
Never Mix two different batches of mix without washing machine & utensil properly.
After blending mix into milk it should be always stored at -18⁰C.