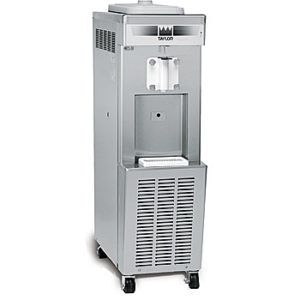 Single Flavour Thick shake Machine & Freezer 
6.6 ltr Freezing Cylinder with Quick and efficient freezing.

18.9 ltr Mix hopper to store the mix for freezing. 

Freezing cylinder maintain mix below 5°C hygienically in auto and standby modes

Automatic microprocessor-based control system for consistent output.

Elegant look with transparent & insulating dispensing head 

Ejects product quickly to serve customers faster.

Mix out light turns on when 0.5 liter mix is left in the hopper and freezer shuts down automatically to prevent damage.
How is it works?
Prepare the mix by mixing the premix and milk.
pour mixture in the hopper and start the machine.
Machine Starts to cool the Mixture and it starts to make thick by cooling.
Thick shake is ready When mixture reaches below 5°C.
Get the output in the glass.
To buy or any query you can contact us or fill the 'contact us' form.