We are producing rich and creamy soft serve ice cream premix with all the nutrition values. It comes in powder form which can be stored for long time easily. This premix is perfect recipe of Soft serve ice cream.
Available Flavours: Strawberry, Chocolate, Vanilla, Butterscotch etc.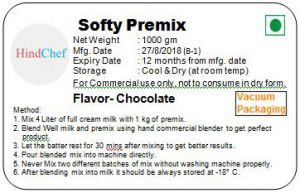 Packaging: 1 kg
shelf life: 12 months
Storage: Cool and dry at room temperature
Moisture proof vacuum packing
Rich in protein, calcium & Other nutrition
Low in fat
Optimum freshness
Offer Price:
Chocolate flavour: Rs. 130/kg + GST
Other flavours: Rs. 120/kg + GST
How to make soft serve ice cream?
Mix 4 liter of full cream milk with 1 kg of Hindchef premix.
Blend well milk and premix using hand or commercial blender to get perfect product.
Let the batter rest for 30 mins after mixing to get better results.
Pour blended mix in the Softy machine directly and start the machine.
Never Mix two different batches of mix without washing machine & utensil properly.
After blending mix into milk it should be always kept refrigerated.