"Gelato"  it is an Italian word used for Ice cream. It is made up of natural ingredients. It has a good nutritional value having very less fat content less than 5%. Gelato ice cream has nearly 35 % overrun (the term refers to the air content in the main product.) therefore it is denser, smooth, silky and soft in texture. Gelato ice cream is handmade and served with high-end creativity which increases the overall taste and presentation before final serving the ice cream. Ice cream lovers are diverting towards gelato as its taste, and texture is incredible, seems too softer and silkier than normal or industrial ice-cream.
Gelato is made with the same ingredients which are used in Regular ice cream viz. milk or milk or milk powder, sugar and sugar substitutes and stabilizers.
We can find Gelato ice cream lovers everywhere .as everyone wants to escape from the boring regular ice cream. This latest Gelato ice cream is very much lovable in India. Hence the demand of gelato making machine has increased a lot from the last few years. Hindchef proudly says that we are the best supplier of gelato ice cream machine. We are the one who increases the craze of this amazing gelato ice cream nationwide.
We supply Gelato ice cream machines nationwide. Our commercial Gelato machines are production efficient, reliable and cost effective. Available in 20L/H capacity. Our machine is the best in production and friendly to make all gelato recipes. The gelato machine is the best to run multiple ice cream parlor.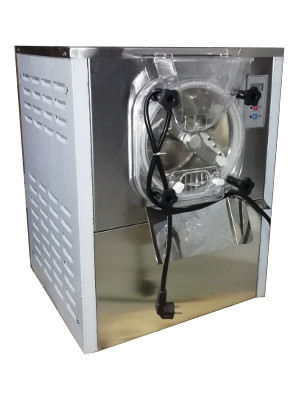 Gelato Machine Specifics:
Dimensions: 435*49*650 mm
Refrigerant: R404a/380g
Power: 1400 W
Power supply: 220/50 Hz
Climate type: ST
Electricity Safe type: I
Net weight: 65Kg
Gelato machine Features:
Best for the Commercial application.
Durable stainless steel body.
Fast production.
Power efficient.
Space saver.
Gelato Premix Powder
We also supply our self-manufactured Gelato Premix powder with brand name HindMix. The premix works well with all machines. It is very easy to use, with a long shelf life.
The following Gelato Premix Flavors are available. 
Vanilla
Chocolate
Strawberry
Blueberry
Butterscotch
Mango
Plain
Bubblegum
Chocolate Hazelnut
Chocolate Mint
Gelato Display Freezer
We are the manufacture of gelato display freezer for your ice cream parlor. Our freezers are aesthetically designed as per needs. If you need customized freezers as per your requirement We are the best at making customized Gelato Display Freezer. several options of customization in Display freezers can be done here is a quick view.
Size and number of containers.
Compressor Power
Size and width
Branding and coloring on canopy /sidewalls.
Glass (Curved/Straight).
Curved Glass Display Freezer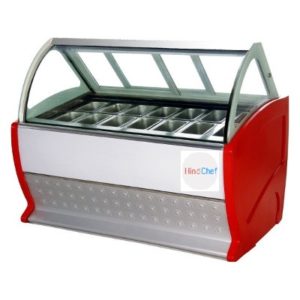 Here, containers are GN pans, which is standard in size and variable in depth. We provide GN pan made of best grade 304 stainless steel.
Low noise and high-efficiency compressors.
Width and size can be determined by the number of containers required and space availability.
Branding and color are done by the third party as per customer need.
We will suggest you with the type of glass (Curved/Straight) required based on the size of the freezer.
Straight Glass Display Freezer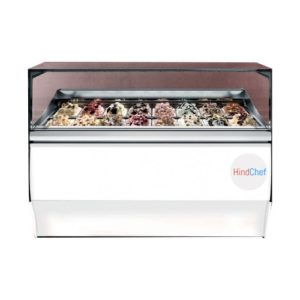 Comprises 12 boxes.
High pressure Foamed layer.
Big display Window.
Powerful tempered glass.
Powerful compressor.
Stainless steel gelato cabinet.
Temperature control display.
Mini Gelato Display Freezer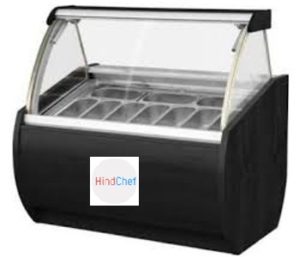 Comprises of 6 boxes.
Easy to clean display
Fan assisted cooling
Automatic Defrosting
Other Ice Cream Machine
We supply all types of Ice cream machines. Like softy or Soft Serve Ice Cream Machine, Cold Stone Ice Cream machine, Roll Ice Cream Machine. More details, Fill inquiry form or Call us.
Gelato Machine Supplier in Delhi :
Address:
H- 16 First floor, DSIIDC Complex, Udyog Nagar
Main Rohtak Road,
Near Udyog Nagar Metro Station (Green Line),
New Delhi 110041.
 Call/Whatsapp: 92-66-60-6060, Email: Sudhir@hindchef.com