We are offering wide range of self manufactured Waffle cone premix. Our range of flavors includes Chocolate, Vanilla etc which makes crispy and crunchy waffle cones. We are providing on-time delivery for premix powder all over India at best price.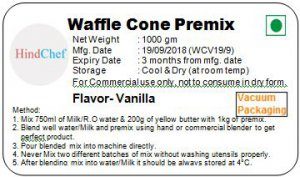 Packaging: 1 kg
Shelf life: 3 months
Storage: Cool and dry (at room temperature)
Offer Price: Rs. 120/kg + GST
Moisture proof vacuum packing
Optimum freshness
Makes light and crispy cone
How to make Waffle Cone?
Mix 750 ml of Milk/R.O water & 200 gm of yellow butter with 1 kg of premix.
Blend well water and premix using hand or commercial blender to get perfect product.
Let the batter rest for 5-10 mins after mixing to get better results.
Preheat your waffle cone maker and Pour blended mix to it directly.
Never Mix two different batches of mix without washing utensil & machine properly.
After blending mix into water/milk, it should be always stored at 4⁰C.
Baking Temp: 180 to 220 degree C
Baking Time: 4 min