Turkish Ice cream machine:
Power-1300 W
Compressor – Hitachi, LG or equivalent
Weight-180kgs
Voltage-220 v /50 Hertz
Barrel Quantity- 1, 2,3 or 6
Barrel Size– Depth 380mm, diameter 220 mm
Temperature : -220C
Made in India
Call/Whatsapp: (+91) 9266606060
Send Enquiry
---
Feature of our Turkish Ice cream machine
Body material: Stainless steel
Lockable and movable Castor wheels.
Supreme machine with precision engineered.
Sturdy shiny stainless steel look
Robust design.
Optional sidewalls logo available for branding.
Easy to operate clean and convenient to use.
Powerful heat exchanging unit.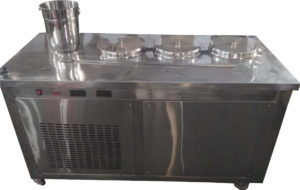 ---
Types of Turkish ice cream machine
Turkish ice cream can be manufactured with 2 different technologies. These two methods are described below.
Multiple evaporator type: This model is very power efficient. It has separate evaporator (copper piping) for each hole of the machine. This type of machine cools very rapidly and maintain temperature of individual holes. Each hole can be set at different temperature. This machine is ideal for 1 to 3 hole in single machine.
Eutectic fluid type: In this technology holes are submerged in eutectic fluid (non freezing liquid). The cooling is passed from copper pipe (evaporator) to the eutectic liquid. The holes of machine cools indirectly as they are submerged in eutectic liquid. This machine is ideal for 4 to 6 holes. As freezing is indirect it takes long time for machine to cool initially.
Each type of Turkish ice cream machine is having its own advantages and disadvantages. The Multiple evaporate model is ideal for less number of holes. As the number of holes increases cost increases rapidly. The machine is more power efficient and less in weight.
Eutectic type Turkish ice cream machine takes longer to start. This is because first eutectic liquid is cooled which then transfer freezing effect to holes. This machine is ideal for more than 3 number of holes. The cost of machine does not increase too much with increase in holes. This machine is also not effected by small power cut of 30 mins to 1 hour duration.
Turkish ice cream
The most trending dessert that has been amazing to watch and eat is the Turkish ice cream. This amazing Concept comes from Turkish and it has been widely loved all around the world because of its rich diversity. Chewy, thick and rich in diverse flavor options makes it so famous worldwide. Turkish ice cream is basically made up of gum ingredient commonly known as Mastic. Mastic is the combination of food grade thickening agent salep and resin. This constituent has amazing comply to melting even in sweltering summer. Hence no fear for ice cream lover to consume it slowly and no fear of dribbling down of ice cream from cone.
---
Unique way to serve Turkish ice-cream:
Everyone is fond of eating ice-creams. As the thirst for ice cream is irresistible and if someone teases you during serving it will make you frustrated. But after several tricks, you finally got the product. It is really incredible in taste. It is like you won a battle and get a reward. Yes, it is true these hand tricks are played by Turkish ice cream vendors. The amazing serving tricks by vendor attract a lot of people to watch and instigate to accept the challenge to grab. These challenges and amazing serving tricks are profitable for a seller to accumulate crowd. After performing amazing and cunning tricks you will get your ordered ice cream to enjoy.
They Challenge you to beat their tricks to grab the ice cream. It seems like their motto is to realize people to work hard to get a treat. Is it Looks easy to grab the Turkish ice cream? But really it is a hard nut to crack
---
The experienced vendor feels pleasure to frustrate customers by their cunning tricks with hands during serving. There numerous tricks tease the customer within blink of an eye. Their series of Twirls and turns perplexed customers as he eagerly waits to have the order. However, this challenge is a fun for the customer too. Vendor uses the metal scooping bar, to scoop out the clump of ice and stick ice cream cone with it. Amazing bluff with empty cone and hand spins it becomes next to impossible to grab the ice-cream. This skillful teasing becomes a fun experience for the consumer as well for the nearby visitor and passerby. Everyone delight and amused with the serving tricks. Turkish Ice cream also has the different taste and texture than regular ice cream. This ice cream is chewy, thick in texture and has elasticity that avoids falling of ice cream during twizzle.
---
Our Turkish ice cream machine or commonly known as flying ice cream machine are quality tested on several parameters such as temperature, power consumption, production efficiency etc. We proudly say we are the maiden in the manufacturer of the Turkish ice cream machine in India. We provide the best machine with the best specifics at a reasonable price to boost your venture.
Our machines barrels are designed specifically not to melt ice cream easily and also not to freeze. Hence it becomes an ease to the vendor to stretch the ice cream contained in the barrel up to 3 to 4 meters long over the stick.
Those who willing to start or increase the business in Turkish ice cream machine. We are providing you with the best deal at your doorstep. Nowadays Turkish ice cream business is in hot business and the most profitable one In India.