Swirl Ice cream machine is the latest trend in the market. This amazing innovation come from Newzealand. It changes the experience of ice cream lovers. With the help of this machine softy lover able to eat the fruit blended softy.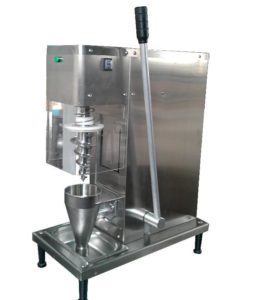 Swirl Ice Cream Machine
Application– Ice cream
Power-380/750w
Voltage: 220V/50Hz
Warranty-1 year
Material-Stainless Steel
Voltage-220v / 110v
Advantage-Easy Control
Weight-50Kgs
Dimension-800*530*430mm
Price– 90000 + GST
Send Enquiry
    Features
Can mix ice cream and fruit, nuts, milk-shakes to create a greater variety of natural fruit flavours of ice cream.
With manual control, to facilitate nesting of fruit crushing and speed adjustment.
Jet cleaning, ready to use,  effective solution to Ice cream in the production process of different fruits and odour problems.
Equipped with water overflow alarm system, allowing users to get to know the water tank filled with water situation.
Spiral mixing blades, the bottom of the mixing head with a convenient break the frozen fruit piece.
Stir with a funnel shape under the cap, depending on the shape of hats can play a variety of shapes of Fruit Cream.