Softy is liked by all age people. People love to eat softy ice cream in all seasons. Softy ice cream machine can be set up in restaurant, hotel, mall or small shop easily and get high-profit margin with minimum cost. It is a good idea for small business. To start this business you need the following things:
Softy machine is the core piece equipment to start soft serve ice cream business. You can start your business very easily with one machine only. High-quality range for softy machines is available. There are two models of Softy machine i.e. floor Model and Table Top Model.
Table Top Model is placed on approximately 2.5 feet table. It is available in two variants; first one is single flavor model and the second one is 2+1 flavor. Single flavor has a single hopper, it produces single flavor at one time. 2+1 flavor comes with two hoppers, it produces 2 different flavors and the third one is an equal combination of two flavors. You can choose flavors according to your area requirement. It costs up to 70000-80000.  If you have a space issue then you can buy this machine without any hassle.
Floor model comes with 4.5 height with lockable and movable wheels. It is available in 2+1 flavor model. It is perfect to buy if you have not any issue regarding space. It costs around 1 Lac Rupees. It consumes 6 units of electricity in 10 hours, which costs about 50-60 rupees.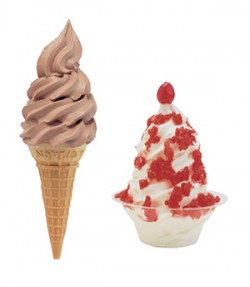 It is ready to use mix to make softy ice cream. You just mix it with milk and use. It costs about 120-130 per kg. we are providing the mouthwatering flavors of premix powder.
Send Enquiry
Cones
This is used to serve ice cream. This gives additional taste to soft serve ice cream as well as a very good presentation. It costs about 0.7-1 rupees. Ice cream filling costs about 3.5 to 4.5 rupees.
Milk
In one batch, 4 Litre full cream milk is mixed with 1 kg of premix.  Milk costs about 200 rupees. Then, you pour this mixture into the hopper. Air is incorporated in the mixture which is called as puffing. Now, it gives 7 ltr output of softy ice cream. So this total mixture costs 350 rupees.
Cost of one softy serve ice cream cone
Premix+Milk, Mixture(7 ltr) cost is 350 rupees. You can make 75-80 big size cones (90 ml). One cone filling costs approximately 4.5 rupees. Final cone cost is 5.5 rupees including Tissue paper and Softy cone. If you use Small cones (60 ml), then you can make 100 cones, which costs 4.5 Rupees including all expenditures. Small cone selling price can be 10 and big cone can be sell for 15 rupees easily. So, it's all clear the effective cost and margin profit of softy ice cream.
Training of Softy ice cream
We provide free training to our potential customers in Delhi. We will give you menu and recipe suggestions also. If you want advanced training at your location then we can also provide. For this additional Charges will be applied.
You can also watch our Detailed Video of softy ice cream business. Otherwise feel free to contact us!!!