Hindchef started manufacturing shawarma machine in April 2017. We gathered improvement required in shawarma machines manufactured by other manufacturers. The machine design by us have many quality improvements.
What is Shwarama machine?
Shwarma machine is the latest innovation in the hospitality sector. This machine is widely used for making Non-Veg items such as chicken shawarma, mutton and turkey shawarma. Basically,  shawarma machine is made up of stainless steel body and embedded with heavy duty burner. With the help of shawarma machine the mincing, chopping became easy. It retains the texture, aroma and juiciness of the meat.
---
Shwarama machine designed for ease of use and efficiency. We have a wide range of shawarma grillers with a high-quality heating element and correct temperature. It also help improve taste as it maintain required temperature range. The machine rotates with robust quality motor which lasts for years. Machine body is durable and long lasting. We can configure machine according to you and as per your requirements. You can customize, size and heating power. Hindchef is a leading supplier of shawarama machine all over India.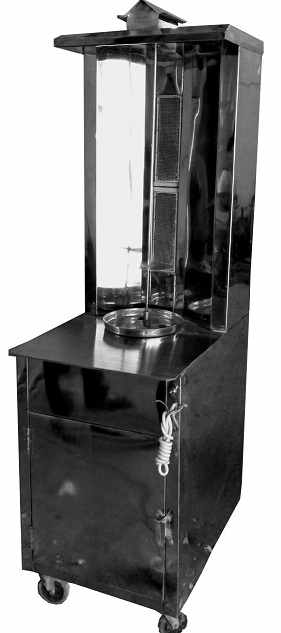 Shawarma machine price
We have range of shwarma griller machine our starting price is Rs 18000 +GST only.
Shawarma machine features
Durable Stainless steel body
Long lasting geared motor
Correct temperature range for optimal taste
One year warranty
Customization available
Models of Shawarma Machine
---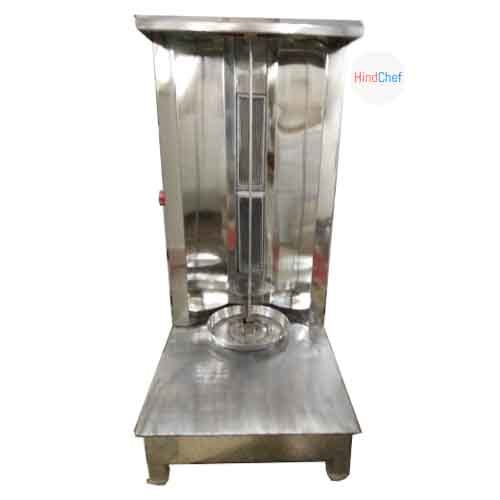 Mini Shawarma Machine
Model No: HCSBSM0011
Adjustable Stick
Capacity
: 5-10 Kg
Power Source:
Gas/Electric
Material:
Stainless Steel
Types of model:
 Tabletop model
Power:
4.5 kW
Voltage:
220v/50Hz
Weight:
60kg
Price:
Rs 22000+gst
Send Enquiry
Ready in stock
---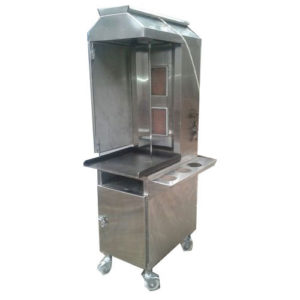 Shawarma Machine With Trolley
Model No: HCSBSM0012
Adjustable Stick
Capacity
: 5-10 Kg
Power Source:
Gas/Electric
Material:
Stainless Steel
Types of model:
Floor model
Power:
4.5 kw
Voltage:
220v/50Hz
Weight:
60kg
Price:
Rs 22000+gst
Send Enquiry
Ready in stock
---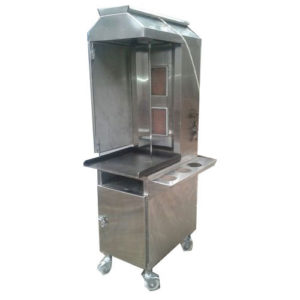 Shawarma Machine Without Trolley
Model No: HCSBSM0013
Adjustable Stick
Capacity
: 5-10 Kg
Power Source:
Gas/Electric
Material:
Stainless Steel
Types of model:
Floor model
Power:
4.5 kw
Voltage:
220v/50Hz
Weight:
60kg
Price:
Rs 22000+gst
Send Enquiry
Ready in stock
---