Fried Ice cream Roll machine
We have two type of machine.
Single Pan Machine
Double Pan Machine 
---
Softy/ Soft Serve Machine
This machine are used to produce Softy ice cream. such ice cream are produced in Large Quantity and can be stored later . we Supply Two models of Softy Machine.
Table Top Model
Floor Model
---
Gelato Machine
Gelato machine produces richer and denser gelato ice cream these are instant prepared ice cream.We can not store for longer time .
---
Pizza Cone
Pizza cone is an Innovative way of making pizza cones and serving it with different fillings. We Supply pizza cone machine and cone oven .
we have two types of machine
Two Moulding pizza cone Machine.
Four Moulding pizza cone Machine.


---
Stone Machine
We supply powerful stone machine for  making cold stone ice cream with different flavours .we are bigges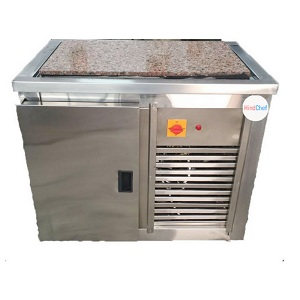 t supplier of Stone machine and we Design  many types of stone machine in different sizes .
Available Sizes of stone machine :
36 x  24 Inches.
 36 x 18 Inches
 24 x 18 Inches
18 x 18 Inches