Hindchef manufacture premix for making liquid nitrogen ice cream. This premix is very simple to use, it need to be mixed in full cream milk. 1 kg nitrogen ice cream premix powder can make 5 kg of ice cream base. The premix gives uniform texture and smooth flavour to the ice cream. Currently premix is available in plane, vanilla and chocolate flavors.
---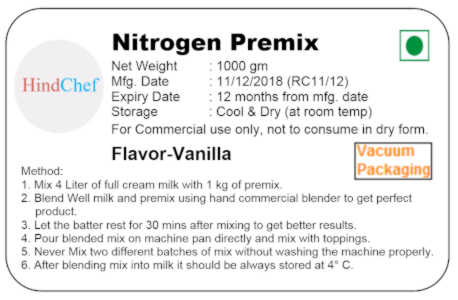 Product name: Nitrogen ice cream premix
Packing size: 1 KG, Vaccum packing
Flavor Available: Plane, Vanilla and chocolate
Method: Add 4 liters of full cream milk in 1 kg
Delivery: all over India/Export
Send Enquiry
---
To keep premix fresh for longer duration we use vacuum packing for premix powder. This also save premix powder from moisture. Vacuum packing also reduces chances nor damage during transport and handling.
Method of using nitrogen ice cream premix powder
Use 4 liter milk to mix with 1 kq of nitrogen ice cream premix. (The milk should not be boiled before or after mixing). You can also add fresh cream to increase fat content of ice cream
Mix well using clean hand or hand blender. There should be no dry lump left in the base.
Keep prepared base chilled ideally in refrigerator.
It is good to make the ice cream base 15 min in advance for better taste.
While making ice cream first ice cream base should be pored and while churning half of liquid nitrogen required for the recipe should be pored. 15 seconds later ice cream add on like fruits, cookies etc can be added.
Do not stop mixing until ice cream is formed and all the add on are added. stopping nitrogen mixer in between can cause formation of ice crystals.
Important instruction: These are the steps for making ice cream base using nitrogen ice cream premix. One kg premix packing is to be mixed with 4 liters of full cream milk. It is recommended to use homogenized and pastured milk. Milk should not be boiled before or after making the base. Once base is prepared it should be kept chilled. If you  have not used all the content of packet it should be stored in airtight container. Packet should be discarded 3 days after opening. Base should be discarded in 12 hours after mixing.
Nitrogen ice cream parlour setup
Hindchef can help you in setting up full nitrogen ice cream setup, including equipment premix, training and recipes. Check out about the nitrogen ice cream mixer and other setup.
If you have any query feel free to contact us (call whatapp +91-9312445566). You can also fill the query available on this page.