Ice cream is an always most preferred treat for every opportunity in all seasons. Roll ice cream is the most popular format of ice cream. It is called as Tawa ice cream in Gujarat and Maharashtra. Or Fried ice cream in many places. You can start this business as an outlet or an extension to your existing business, restaurant or ice cream parlor. Here is the detail of cost, Margin, staff required to start this business:
To start this business you need Tawa ice cream machine as core equipment, which costs about 40-50 thousand for a single pan or it costs upto 1.15 lakh for the double pan.
Staff required: You need 1 person to make ice cream and one person to serve ice cream and make bills. So you need two people per pan in this business.
Costing: Mostly, 60 ml or 90 ml base is used to make roll ice cream. 1 liter prepared costs 250 rupees. If you use 90 ml base to make rolls then it costs 8-9 Rs. You can also add fruits to this which costs about 4 Rs. So total cost including cup and spoon is 13 Rs. You can sell it easily for 70-100 rupees. If you go for expensive fruits like Kiwi then  it cost 10 rupees for kiwi and the total cost is 20 rupees. So it gives a huge margin profit.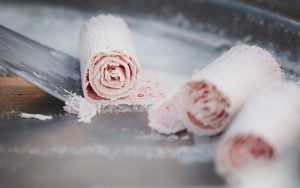 How to choose a perfect roll ice cream machine?
It should have defrost button as default because it is useful to remove ice cream from pan and make rolls. Machine starting or cooling time is a very important part of every machine. Many machines take 8-10 minutes to cool the pan and total 12-15 minute to make rolls. So you should choose a machine with a defrost button, fast cooling time, which starts quickly.
Send Enquiry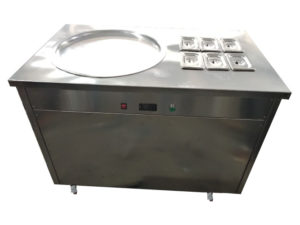 Roll ice cream Machine – HindChef
We have various model available with different features of pan size, number of bain maries or freezer.  We also provide customization as per customer requirement.
Our all models have defrost button feature by default. All models are compatible to work in 45 degree Celsius atmosphere easily. The machine takes only 90 seconds, from normal temperature to snow temperature. Internal parts are coated with powder coating to prevent rusting. We use digitally flow control mechanism in the compressor which extends compressor life from normal 3-4 years to 8-10 years.
Roll Premix: We are also providing all flavors of Roll ice cream premixes. you just mix it with milk and make rolls instantly. Premix powder is hygienically processed. We are offering all mouth-watering flavors.
Ice cream Roll Training: We also provide free training to our potential customers in Delhi. We will provide you menu and Recipes. If you want extended training at your location, then it will be paid. In this, Chef will visit at your location; guide your staff in using the machine and developing the menu.
You can also watch our video on ice cream roll business. If you have any query, then feel free to contact us.