Ice cream is a sweetened frozen food, usually a smooth & Creamy mixture of milk, sugar and other ingredients.  Ice cream is used to make milkshake, sundaes, Waffle, Ice cream cakes etc. It is popular treat for hundreds of years. It is developed with various kind of variations and every variation have various flavours.
India is a land of ice cream lovers, People like to eat ice cream in winter also. So ice cream parlour is a lucrative food business. In Earlier days, Youngsters and children were commonly to eat ice cream from the roadside cart. But nowadays, people like to enjoy at leisure different types of ice cream with various flavors. So Ice cream parlour gaining popularity rapidly and many ice cream parlours are opened in different areas.
There are two options to open an ice cream parlour: first one is Franchise Parlour and second is your own Parlour. Now, a Question arises in your mind is "which will be best for me?", so here is your solution: If you will go for a  Franchise parlour, then you will have to invest a vast amount of money for deposit and other maintenance as per their terms & conditions. You should have minimum required space and the furniture as per their standard. So in this you will have to invest a high amount of money. So, it is good to open your own ice cream parlour and develop your own brand.
Next Question arises is "What do I need to open my own Ice Cream Parlour?" Here is the detail of products you need to open an ice cream parlour:
Developing a menu
Ice Cram Machines
Infrastructure and Furniture
Recipe and training of staff
Kitchen equipment & utensils
Raw material and its source
If you are new in this field then you can lost your lots of time in these all things. It can take six months to understand customer needs and get business running. But you can also start your business easily and quickly with the help of Hindchef consultancy. You can open ice cream parlour in a Mall, a street, a roadside and any location with good ambiance.
Hindchef is a prominent manufacturer and supplier of ice cream machines, fast food machines and other all commercial kitchen equipment. With its experience of years and technical approach, Hindchef have been consulted to many parlours and developed many recipes for our clients. It is compulsory to have good business plan to start any business and run it for long time. We provide full consultancy for ice cream parlour including Kitchen equipment, store design, Training, Machines and raw material. We provide some tips to produce best quality ice cream with huge margin. If you want to improve your existing ice cream business, feel free to contact us. We are sure that we will make you dominant player in ice cream market of your city.
There are many formats of ice cream in the market. To open ice cream parlour you need to choose the format and flavours of ice cream. We help you to decide the format of ice cream according to your area. Here are some formats of ice cream which are popular in India. We also providing Machines and equipment you need for that format: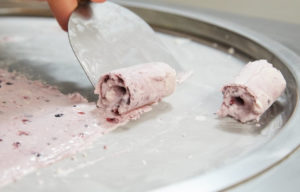 Roll Ice Cream
It is also known as fried ice cream, Thai ice cream and pan ice cream. It is most popular format of ice cream. It is made of liquid mixture and natural fruits, stirred on a cold pan at low temperature. It gives a huge margin and high level of customer satisfaction. To Start this ice cream in your parlour you just need for one ice cream roll machine. We consult you for best machine as per your requirement meets. Check it here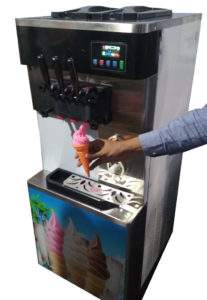 Soft serve ice cream
It is a soft and creamy ice cream with less density served in a cone. It is a lighter mixture ice cream served in a cone. It is popular at fairs, restaurants and ice cream parlours. By making a high quality ice cream you can get 60-70% Margin easily. We will also make you contact with cone manufacturer. You can start making soft serve ice cream with a soft serve ice cream machine.Check it here
Gelato ice cream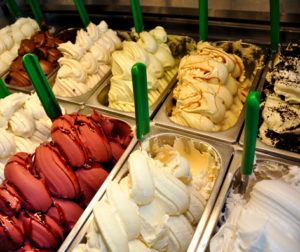 It is an Italian style ice cream, popular in whole world. It is an extended version of softy ice cream. It is softer and creamy with very low fat less than 5%, made of natural ingredients. It is served in bowl and cone at -13 degree Celsius.  It is popular among the children and youngsters. Due to its high demand it is accepted by many parlours, restaurants and catering industry. You can make many flavours of Gelato ice cream; we will suggest you recipes as per your area requirement. You just need for one Gelato machine to make gelato ice cream. For raw material you need premix and milk. We suggest you for high quality premix and machine. Check it here
Nitrogen ice cream
It is the trendiest sweetened dessert in the ice cream market. Fat and water stays very small because of liquid nitrogen and makes it creamy. Liquid nitrogen ice cream is adopted by many parlours because of its high demand and popularity. It produces air free & dense texture ice cream quickly. It's very easy to make nitrogen ice cream; all you need is Nitrogen ice cream mixer, Nitrogen Cylinder and premix. We guide you for best quality nitrogen mixer, Nitrogen Cylinder and high quality range of premix. check it here
There are also many formats of ice cream, available in the market. We guide for every format of ice cream with every flavor. We also provide personal ice cream training at your location. It will be good to develop recipe according to your area requirement. Our team continuously works for research and develop new recipes for our prospective customers.
Storage
Next, you need to store your ice cream and other products. To store these all item you can get deep freezer. It is also called as chest freezer with hinged lid which opens upward. We have high quality range for deep freezer. We suggest you best suited for you among the various models of deep freeze with different storage.
Mouth advertising is the essential part of marketing for every business. So, if you provide best quality product then your product sales increase automatically. Still, if you have any question regarding Ice cream parlour setup then contact us without any hesitation. We solve your every kind of query regarding ice cream to create strong client/consultant relationship.
Guarantee!!! We will make you the BEST Ice Cream Player in your area!!!